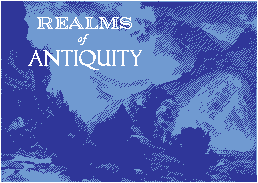 In May of 2005, I graduated from college with my Bachelor's in Computer Science. At the time, I had started preliminary work on my CRPG, having decided that working on something original and new was better than trying to port over other games. (Which, in this case, was Chris Crawford's Eastern Front 1941 for the Atari 8-bit systems.) My first task was to create a scrolling engine, using line of sight blocking. I wonder if every top-down CRPG starts with this?
So, with this month, it's been 15 years. Yikes.
So it's been an interesting couple months. I was furloughed from work for six weeks, as a cost-saving measure as the company re-oriented itself for a new and uncertain future. I'm back working now, thankfully, but I'm definitely keeping my eye on how things go.
Despite having nothing but free time, development has been slow. Stressing out about potentially needing to find new work in the middle of the worst crisis the country has experienced in over a century is not very conducive to creative thinking. I did get beta 28 out, but I still have a lot of script testing to do.
A few new features made their way into beta 29, based upon tester feedback:
A "return to town" effect, which will take the party back to the last place they rested. Or the starting location, if they haven't yet. There is both a spell and an item that can do this. Some maps can't be escaped from this way, because the game requires you to be "trapped".
Floating damage indicators on the battlemap screen. The damage inflicted appears as little floating digits briefly. I pushed back on this a little, not seeing the need but one of the testers said they were so focused on the battlemap they never saw the numbers displayed below.
I still have script testing to do in several more locations, so I'm trying to buckle down and get that done. I want to make beta 29 and/or 30 the LAST beta build before a release.
After that, I have to figure out how I will distribute it. I was originally going to just put it up free for download, but I've been realizing that doing so would be wrong. A lot of work goes into a game like this, and to set the expectation that it should be free just because it's on a vintage system is a bad idea.
As a look back, here's some screen shots of the early game development to enjoy!